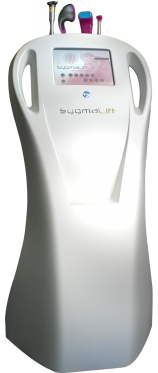 MEDIXSYSTEME AG Presents Sygmalift- The "3D" Volume Treatment Effect in 2020
Sygmalift combines 2 energy sources: 3D Intensive Ultrasounds and Low Level Laser 635nm. The energy-based deviceis able to lift, but also to contour and remodel the face. The synergism of the thermal and mechanical actions of intensive ultrasound energy results in effective treatments that accentuate the neck and jawline, contour the eyes and lift the eyebrows.
Intensive Ultrasounds in three-dimensional technology gets faster results for Face Lifting and V Facing. This innovation is able to treat volume that contains every conceivable plane (X, Y, Z angles) within the facial and neck region
Sygmalift 3D is a complete painless treatment platform. Physicians have 3 hand pieces for each area.
• 3D Spatula ergonomic perfect on curving area (jawline, cheeks, chin)
• 3D Trifoca Ultrasounds for tiny zone eyes, forehead, mouth
• Laser 635nm for glow biostimulation and faster results